Forensic Psychology Books
Forensic Psychology Books Whether your interest is academic, professional or general, the following forensic psychology books are essential reading texts for anybody seeking further knowledge and understanding.
The books have been arranged within specific forensic psychology topic areas.
Each book has a link to Amazon USA and Amazon UK. In most cases you will be able to get further information on the book or books you are interested in as Amazon provides a 'look inside' function, whereby you can read the tables of contents, index, an excerpt from the book and it some cases an entire chapter.
Visitors from the rest of the world should follow the US links.

---
General Forensic Psychology Books



---
Forensic Psychology: Christopher Cronin
This text introduces the reader to the practice of forensic psychology. Forensic psychology, as defined by the American Psychological Association, is the application of clinical specialties to the legal arena. The emphasis of the book is to help students understand the practice of forensic psychology along with career opportunities in this rapidly evolving specialty. Included are several chapters on the area of legal psychology.
Areas covered in forensic psychology include a chapter on the ethics of psychology and law, an extensive chapter on assessment in forensic practice, criminal responsibility and competency evaluations, child custody evaluations, police psychology, correctional psychology, and evaluations of psychological injury. Areas covered in the specialty of legal psychology include trial consultation, criminal investigative psychology (detection of deception, criminal profiling, psychological autopsies and use of hypnosis) and eyewitness memory and recovered memories. A final chapter identifies emerging trends in the area of forensic psychology.

US Visitors Click Here
UK Visitors Click Here



Forensic and Criminal Psychology: Dennis Howitt
This book provides a thorough introduction to the major issues and findings of modern forensic and criminal psychology.
The lively text is designed to maximise its practical usefulness to students of the field at any level. It is the most comprehensive single volume covering the broadest range of issues from the childhood of offenders through to assessing risk of future offending.

US Visitors Click Here


UK Visitors Click Here



Introduction to Forensic Psychology: Curt & Anne Bartol
Introduction to Forensic Psychology provides a broad examination of forensic psychology and concentrates on the application side of the field, focusing on research-based forensic practice.
Designed for undergraduate and graduate students studying forensic psychology in psychology, criminal justice, and criminology courses. This book will also be of interest to mental health professionals.

US Visitors Click Here


UK Visitors Click Here



Handbook of Psychology Vol 2: Forensic Psychology: Goldstein & Weiner
Outstanding book that includes established theories and cutting-edge developments in forensic psychology.
Drawing on the work of an international group of experts, among the many issues addressed are the nature of the field, what forensic psychologists do, ethical conflicts, methodology and expert witness testimony.

US Visitors Click Here


UK Visitors Click Here



Forensic Psychology: From Classroom to Courtroom: Brent Dorsten
Forensic Psychology: From Classroom to Courtroom addresses the current status of psychological practice in each major topic area.
The book addresses a broad range of very important issues, including, forensic psychology as a field of specialization, professional preparation issues for training as a forensic psychologist and the current challenges faced by forensic psychologists.

US Visitors Click Here


UK Visitors Click Here
---
Criminal Profiling Books



---
Offender Profiling: Theory, Research and Practice : Jackson & Bekerian
Places offender profiling within a more balanced context. Initial chapters introduce a theoretical basis for the approach, followed by chapters illustrating the pros and cons of its use in an operational setting. It presents two basic ideas: that offender profiling is not an end in itself, but is an instrument for steering an investigation in a particular direction, and that the process of developing a profile depends on a combination of investigative experience together with objective findings from behavioral science research.
US Visitors Click Here
UK Visitors Click Here
Offender Profiling: An Introduction To The Sociopsychological Analysis Of Violent Crime : George Palermo et al
This comprehensive and objective book effectively separates profiling myth from reality. In the first section, the authors describe the major violent crimes, particularly multiple/serial murder, serial arson, serial rape, and burglary-related felonies as strictly connected with the underlying personality of the offenders. In the second section of the book, they discuss the crime scene. The third section includes a historical review and criticisms of the major theoretical research on profiling.
US Visitors Click Here
UK Visitors Click Here
Geographic Profiling: Kim Rossmo
A must read for serious students of profiling. This groundbreaking book introduces and explains this important investigative methodology, used to analyze the location of a connected series of crimes to determine the most likely area of offender residence. The book includes an extensive review of the literature in the areas of criminal profiling, forensic behavioral science, serial violent crime, environmental criminology, and the geography of crime.
US Visitors Click Here
UK Visitors Click Here
Criminal Profiling: An Introduction to Behavioral Evidence Analysis: Brent Turvey
A unique and engaging approach to criminal profiling centred on the author's Deductive Profiling method. Written in a style accessible to a wide audience, from the detective performing hands-on casework to the academic in the classroom this is an ideal text for courses on criminal profiling or investigative strategy in serial crime and as a supplement to courses involving criminology, arson, stalking, sex crimes or death investigation.
US Visitors Click Here
UK Visitors Click Here
---
Psychological Testing & Assessment Books



---
Essentials of Forensic Psychological Assessment: Marc Ackerman
Practical book designed to provide you with the knowledge and skills required to administer, score, and interpret key assessment instruments used by forensic psychologists. The book covers custody cases, expert witness assessment, fitness to stand trial, civil commitment and substance abuse assessment. A great student primer, each chapter features highlighted key concepts, bulleted points and test questions to help you reinforce your grasp of the information covered.
US Visitors Click Here
UK Visitors Click Here
Forensic Applications of the MMPI-2: Yossef Ben-Porath et al
The Minnesota Multiphasic Personality Inventory is one of the most important and widely used psychometric tests. This book deals with the forensic application of the MMPI. Written by experts in the field, forensic applications covered include competency to stand trial, criminal responsibility, injury litigation, child custody evaluation, neuropsychological evaluation, and risk assessment. Essential reading for anybody considering a forensic or criminal justice career.
US Visitors Click Here
UK Visitors Click Here

Best Practices in Forensic Mental Health Assessment

This excellent series from Oxford University Press includes the following titles:
Evaluation of Sexually Violent Predators By Philip Witt
Foundations of Forensic Mental Health Assessment by Kirk Heilbrun
Evaluation of Criminal Responsibility By Ira K. Packer
Evaluation of Competence to Stand Trial By Patricia Zapf
Click Here for full details.


---
Understanding The Psychopath Books



---
The Psychopath: Emotion And The Brain: James Blair et al
This fascinating book separates fact from fiction by presenting the scientific facts of psychopathy and antisocial behavior. The book examines the definition of psychopathy, the number of psychopathic individuals in society, whether they can be treated. The authors also present their ground-breaking research into whether an underlying abnormality in brain development, reducing emotional learning, is at the heart of the disorder.
US Visitors Click Here
UK Visitors Click Here
Without Conscience: The Disturbing World of the Psychopaths Among Us: Robert Hare
An absolute classic. Based on 25 years of distinguished scientific research, Dr. Robert D. Hare vividly describes a world of con artists, hustlers, rapists, and other predators who charm, lie, and manipulate their way through life. Are psychopaths mad, or simply bad? How can they be recognized? And how can we protect ourselves? This book provides solid information and surprising insights for anyone seeking to understand this devastating condition.
US Visitors Click Here
UK Visitors Click Here
Psychopathy, Perversion, and Lust Homicide: Recognizing the Mental Disorders That Power Serial Killers by Duane L. Dobbert
In this pointed study of serial killers, internationally known Forensic Psychologist Duane Dobbert shows us how - even years before the crimes were commmitted, the perpetrators of lust homicides exhibited behaviors showing certain mental and sexual disorders which grew to fuel the horiffic murders. Dobbert's analysis, covers 13 killers from Herman Mudgett, who confessed to 27 murders in the 1800s, to Jeffrey Dahmer, who killed 17 young men & boys between 1978 and 1991.
---
Eyewitness Testimony Books



---
Mistaken Identification: The Eyewitness, Psychology and the Law : Cutler & Penrod
The criminal justice system has devised several procedural safeguards to protect defendants from erroneous conviction resulting from mistaken eyewitness identification. Mistaken Identification: The Eyewitness, Psychology and the Law reviews the empirical research bearing on the adequacy of those safeguards. Mistaken Identification is an invaluable text for psychology students, law students and researchers of memory.
US Visitors Click Here
UK Visitors Click Here
True Witness: Cops, Courts, Science, and the Battle against Misidentification: James Doyle
Mistaken eyewitnesses are the leading cause of wrongful convictions. In this engaging and compelling book, the author draws on the experience of scientists, police officers and former prosecutors, all of whom have direct knowledge of wrongful convictions.
US Visitors Click Here
UK Visitors Click Here
---
Read FBI Profiling Classics on Kindle
---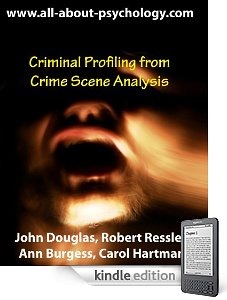 This special Kindle collection consists primarily of the landmark articles written by members of the Behavioral Science Units, National Center for the Analysis of Violent Crime, at the FBI Academy. These seminal publications in the history of FBI profiling were released by the U.S. Department of Justice as part of the information on serial killers provided by the FBI's Training Division.
See following link for full details.
---
Back To The Top Of The Page

Go From Forensic Psychology Books Back To The Home Page