False Confessions 


Want To Study Forensic Psychology?

The Psychology of False Confessions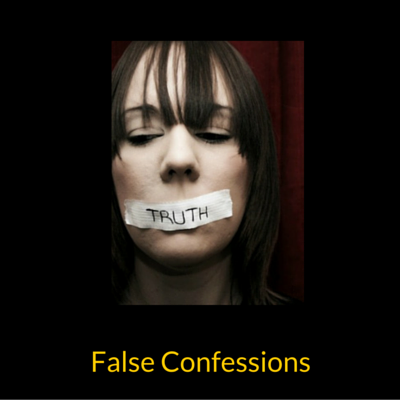 (Image by Victoria Landon via Flickr Creative Commons) 

Pioneering Research
If you have read the key historical figures page on this website, you will know that Hugo Münsterberg was a passionate advocate of forensic psychology and an important figure in its history and development.
In 1908 Hugo Münsterberg published 'On The Witness Stand: Essays on Psychology And Crime'. One of these essays was entitled 'Untrue Confessions'. The following extract is taken from this groundbreaking critique.
I ventured last year to write a letter to a well-known nerve specialist in Chicago who had privately asked my opinion as a psychologist in the case of a man condemned to death for murder. The man had confessed the crime. Yet I felt sure that he was innocent. My letter somehow reached the papers and I became the target for editorial sharp-shooters everywhere. I have before me still a collection of such specimens. "Harvard's Contempt of Court" is the big heading here, "Science Gone Crazy" the heading there, and so it went on in the papers, while every mail brought an epistolary chorus. The efforts of the attorneys to change the condemned man's fate by a motion for a supersedeas before the Supreme Court were unsuccessful. One week later the accused was hanged; yet, if scientific conviction has the right to stand frankly for the truth, I have to say again that he was hanged for a crime of which he was no more guilty than you or I, and the only difference which the last few months have brought about is the fact that, as I have been informed on good authority, the most sober-minded people of Chicago to-day share this sad opinion...
I felt sure from the first that no one was to be blamed. Court and jury had evidently done their best to find the facts and to weigh the evidence; they are not to be expected to be experts in the analysis of unusual mental states. The proof of the alibi seemed sufficient to some, but insufficient to others; most various facts allowed of different interpretation, but all hesitation had to be overcome by the one fundamental argument which excluded every doubt: there was a complete confession. And if the sensational press did not manifest a judicial temper, that seemed this time very excusable. The whole population had been at the highest nervous tension from the frequency of brutal murders in the streets of Chicago. Too often the human beast escaped justice: this time at last they had found the villain who confessed -- he at least was not to escape the gallows. For many years no murder case had so deeply excited the whole city. Truly, as long as a demand for further psychological inquiry appeared to the masses simply as "another way of possibly cheating justice" and as a method tending "towards emasculating court procedure and discouraging and disgusting every faithful officer of the law," the newspapers were almost in duty bound to rush on in the tracks of popular prejudice...
But if I examine these endless reports for a real argument why the accused youth was guilty of the heinous crime, everything comes back after all to the statement constantly repeated that it would be "inconceivable that any man who was innocent of it should claim the infamy of guilt." Months have passed since the neck of the young man was broken and thousands of persons crowded Michigan Street, jamming that thoroughfare from Clark Street to Dearborn Avenue, waiting for the undertaker's wagon to leave the jail yard. The discussion is thus long since removed to the sphere of theoretical argument; and so the hour may be more favourable now for asking once more whether it is really "inconceivable" that an innocent man can confess to a crime of which he is wholly ignorant.
Yet the theoretical question may perhaps demand no later than tomorrow a practical answer, when perhaps again a weak mind shall work itself into an untrue confession and the community again rely thereon satisfied, hypnotised by the spell of the dangerous belief that "murder will out." The history of crime in Chicago has shown sufficiently that murder will not "out." It is important that the court, instead of bringing out the guilty thought, shall not bring it "in" into an innocent consciousness...
Perhaps we can add still another motive which might induce a man in full possession of his understanding to declare himself guilty against his better knowledge. No statistics can tell the story, but we can suppose that persons suspected wrongly of a crime may, in the face of an unfortunate combination of damaging evidence, prefer to make a false confession in the hope of a recommendation to mercy. Every lawyer knows the famous Boom case in Vermont, where the brothers confessed to having killed their brother-in-law and described the deed in full detail and how they destroyed the body; while long afterwards the "murdered" man returned alive to the village. The evidence against the suspected appeared so overwhelming that they saw only one hope to save their lives - by turning the verdict, through their untrue confession, from murder to manslaughter. To this group we might count not a few of the historic confessions in the Salem witchcraft tragedy. The nearest relatives urged the unfortunate accused women to such confessions, seeing no other way of escape for them...
The untrue confessions from hope or fear, through promises and threats, from cunning calculations and passive yielding thus shade off into others which are given with real conviction under the pressure of emotional excitement or under the spell of overpowering influences.
John Mark Karr Case
The work of Hugo Münsterberg was not only groundbreaking but also very perceptive. In the first sentence of his essay on false confessions he stated:
I am most seriously convinced that it is a tragedy not only of crime but also of human error and miscarried justice, and my scientific conscience as a psychologist compels me to speak of it because the tragedy of yesterday may come up again, in some other form, tomorrow.

Münsterberg's contention that false confessions were a normal phenomena triggered by unusual circumstances was recently brought to light in the circumstances surrounding the John Mark Karr case. In relation to the murder of six-year-old JonBenét Ramsey, John Mark Karr claimed that he was present when Ramsey died and that her death was an accident. Authorities were made aware of Karr via the e-mail correspondence he had with Michael Tracey, a journalism professor at the University of Colorado. Karr was arrested in Bangkok and returned to the USA for questioning. Shortly after, prosecutors announced they would not be pursuing charges in connection with the murder after DNA tests failed to place Karr at the scene of the crime.
Amazon Prime Student 6-Month Free Trial!
Get FREE two-day shipping on textbooks and tons of other stuff, exclusive discounts available only to students and access to Prime Photos and Prime Video.
See following link for full details.
Sign up for an Amazon Prime Student 6-month free trial!
Learn More About False Confessions
see following link to read an excellent article on false confessions By Shari Berkowitz, Steven Frenda, Elizabeth Loftus and Kimberly Fenn.
Confessing To A Crime You Did Not Commit

If you are interested in learning more about false confessions, I highly recommend you take a look at the work of the following leading experts on the topic.
Professor Saul Kassin
A must visit and bookmark resource is Professor Saul Kassin's Williams college webpages. From here you will be able to access an extremely useful collection of academic publications and media articles.

Professor Alan Hirsch

Another extremely useful resource is the Truth About False Confessions Blog. Written and hosted by Professor Alan Hirsch, this excellent blog offers anybody interested in this profoundly important topic a tangible link between theory and practice.
Essential Reading
Book Description
Although it is generally believed that wrongful convictions based on false confessions are relatively rare the 1989 Central Park jogger wilding case being the most notorious example recent exonerations of the innocent through DNA testing are increasing at a rate that few in the criminal justice system might have speculated. Because of the growing realization of the false confession phenomenon, psychologists, sociologists, and legal/law-enforcement scholars and practitioners have begun to examine the factors embedded in American criminal investigations and interrogations that may lead innocent people to implicate themselves in crimes they did not commit. 
Police Interrogations and False Confessions brings together a group of renowned scholars and practitioners in the fields of social psychology, cognitive psychology, developmental psychology, criminology, clinical-forensic psychology, and law to examine three salient dimensions of false confessions: interrogation tactics and the problem of false confessions; review of Supreme Court decisions regarding Miranda warnings and custodial interrogations; and new research on juvenile confessions and deception in interrogative interviews. Chapters include well-recognized programs of research on the topics of interrogative interviewing, false confessions, the detection of deception in forensic interviews, individual differences, and clinical-forensic evaluations. 
The book concludes with policy recommendations to attenuate the institutional and social psychological persistence (and pervasiveness) of the various inducements and impediments that have informed law enforcement s interrogation techniques and the types of false confessions they encourage.
Police Interrogations and False Confessions: Current Research, Practice, and Policy Recommendations
UK Visitors Click Here
Rob Warden Discussing False Confessions

---
USA Forensic Psychology Degree Search


Back To Top Of The Page
Go From False Confessions Back To The Home Page